Have you ever had an argument with a sibling or a friend? If you have, then this book will be a hit with you! In this story, two bears have an argument about who is bigger and who is smaller. There is a small, well, big argument and calamity ensues as well as a twist. This is a quite enjoyable read! :o)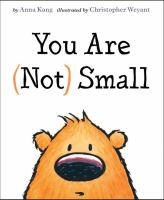 Two fuzzy creatures can't agree on who is small and who is big, until a couple of surprise guests show up, settling it once and for all.
Want to learn more about author Anna Kang? Click here!