When you attend the State Fair of Texas, do you often wonder who invented the MARVELOUS Texas Star? If you've ever wondered where this amazing Ferris Wheel came from then you are in for a treat. The book of the day is called Mr. Ferris & His Wheel by Kathryn Davis. It is not only packed with historical facts about this amazing feat of engineering, but the illustrations truly stand out. I hope you enjoy this book as much as I did! Happy reading! :o)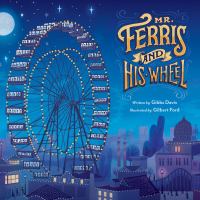 Capturing an engineer's creative vision and mind for detail, this fully illustrated picture book biography sheds light on how the American inventor George Ferris defied gravity and seemingly impossible odds to invent the world's most iconic amusement park attraction, the
Ferris wheel.
A fun, fact-filled text by Gibbs Davis combines with Gilbert Ford's dazzling full-color illustrations to transport readers to the 1893 World's Fair, where George Ferris and his big, wonderful wheel lifted passengers to the skies for the first time.

Want to learn more about author Kathryn Davis or Mr. Ferris & His Wheel? Click here!
Take a moment to preview this book by watching the book trailer!